Florian's Araby Hope Geocache
N33° 47.141', W116° 30.381'
Placed 5/21/2001

Geocaching.com detail page
Topographic map of cache



Cache is in the hills south of Palm Springs overlooking Bob Hope's circular home. Trailhead is near the intersection of East Palm Canyon Drive (aka State Highway 111) and Southridge Drive. Look for signs that say Araby Trail. A shortcut is to walk up Southridge Drive to where it turns west and pick up the trail there. Don't drive up the road. The security people at the upper gate won't let you park. This is not really a summer time cache and the trail is steep and explosed. I started out about 7:30am and it was way too hot. If you want to do the hike in the summer best to start very early before sunrise. Watch for snakes and bring water! Once you reach the cache besides a nice view of Bob's place you can see my house too! I'm at a bearing of 337° (true) and 1.41 miles. I can see the cache from my front yard so i'll be keeping an eye on you!
Be sure to log your find at Geocaching.com! [This cache information may be used/copied/distributed freely for any purpose whatsoever without prior consent of the cache owner.]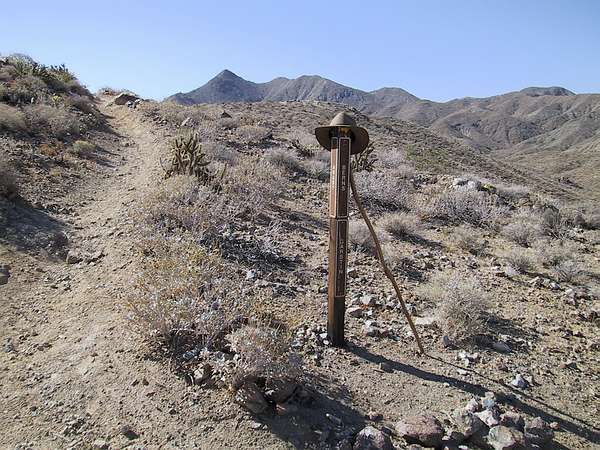 When you reach this trail marker turn left (south-east). Follow the trail shown for about 100 yards to a graded dirt road then turn left (north).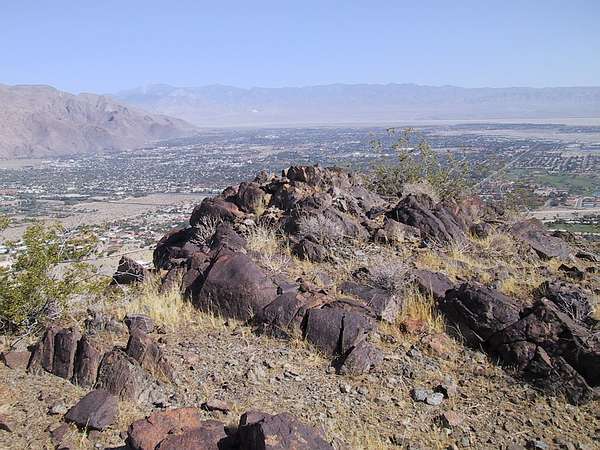 Looking at the cachesite facing north-west. Cache is on the west side facing Bob's house. Palm Springs is in the background with Mt. San Gorgonio in the left distance.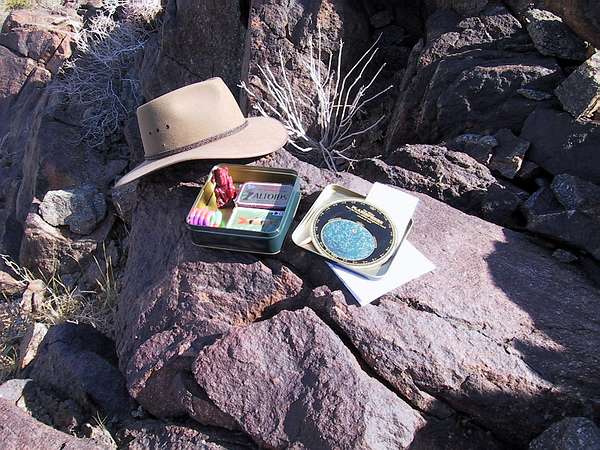 Closeup of cache contents. Cache contains a new tin of cinnamon Altoids, a deck of tropial fish playing cards, a buddha, and twisty puzzle thing and a night sky planesphere. The Altoids box is sealed. Feel free to take the whole box. The Akubra hat is not part of the cache.
Cache in its hiding place. It's not hard to see once you're in front of it. Would be a good hiding place for snakes too so be careful.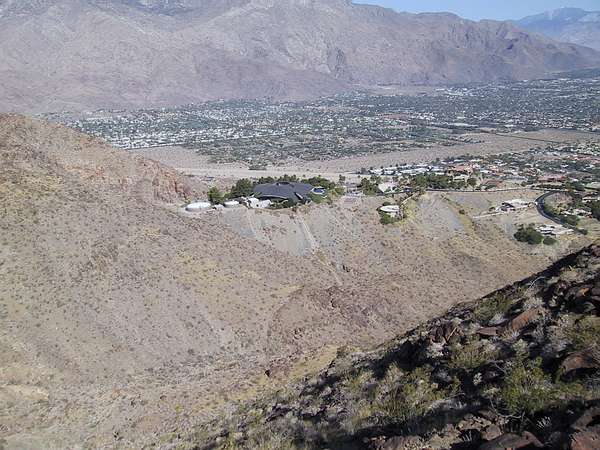 Bob Hope's house from the cachesite.


Visit Geocaching.com for more info!

Florian's Geocaching Page

Stargazer Home