DalNet #atheism IRC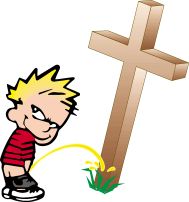 DALnet's gathering place for atheists and agnostics

Sastra's 102 Questions





Channel Policy
Channel #atheism is open to people of all beliefs as a forum for discussion and debate of matters pertaining to the existence or non-existance of a god or gods. The channel is however run by atheists and it should be expected that the atheist viewpoint will predominate. Debate is welcome and encouraged. The channel may also be considered a community of atheists and freethinkers and is open for any topic of discussion of general interest to those on the channel. However, debate and focused discussion shall take precedence over idle chat. There are few channel rules, the utmost being personal respect for other members of the channel. Bear in mind religions and beliefs are not people and have no feelings. Personal respect will not necessarily extend to one's religion or faith. If any channel visitor is offended by the atheistic viewpoint of the channel they are welcome to leave.
Thank you, and welcome to #atheism on DALnet!

-Stargazer, 8/16/1997


Channel Guidelines
Debate is encouraged.
Be prepared to support your claims.
No personal insults nor name calling.
No preaching nor pointless scripture quoting. (Scripture may be quoted to illustrate a given point.)
No colors nor ascii art.
No flooding/spam/invites.
No bots/scripts.
No gratuitous sex/genitalia talk.
Avoid lame/mindless/juvenile drivel.
Don't whine about how the channel is run.
Please be considerate and civil toward others.
Anyone that threatens physical harm to another visitor will be banned.
If you threaten to flood/nuke/DDoS you will be akicked without question.
Now have fun and enjoy your visit.
Channel Operators

ashley- | karstensrage | Kiron | Spudboy | Stargazer | Visigoth | wubwub

Visitors gallery

If you'd like to add/change/remove your photo from this page please email me at atheism@stargazing.com
You can also send images to this address. Be sure to tell me your usual irc nickname and if you'd like your website or email address listed.
Adamanteus
Agathon
Aleph-Null
Allan Website Email
Allis
Alysa
Analihilator
Anata and Anata2 Website Audio
AndyChrist Website
Animated Website
andron & `Alia
Animal_Mutha
Anveli
Apathy666 Email or Email2
Arlanthe Website Email
Arken Email
AsianSensation
AtheistPriest
AtheistScientist Website Email
AtheistStar (on the right)
Atheistx
`Augustus
axelf and axelf for xmas
Azazel Website
Azure-dynamo
b8004ccd21
Baeleron Website
bdalby + Website
Beautiful-Martyr
Billy_DaKid
Black_Bishop
Boday and Boday and Wolf--
Brennan Website
Brewmeister
Bucephalas
Calvinication Website
Camerata Website
ChaiPenLee +
CharlieMcGuire
Chesire_Cat_In_The_Hat aka DragonSmoke
ChimpWithFez
crackd
Creature-Of-Hatred Website ICQ #68217647
CyberFire
CygnusX6
Cyrana, Cyrana and Kahlua
Daerken
Dakini Website
DanJames Website
DarkWorrior Website Email ICQ #37638350
Dave
DavidDSavior + Website Email
Decimal
decent_human Website Email
deform
DevilsEgg Website


DictionaryGirl
drunkwizard loves you and drunkwizard hates you
drwygg
east_tumor
Eeyore7 Website
Elisedd
EllenRipleyIsMale
Elvis
Equin0x Website Email
eRaCer + Website
errorlevel and errorlevel and flautist Website
Eukaryote Website
EvilGrrrl
_EvolveR_
factoid
Feyer Email
Finiwaite
FightingFalcon
Firelock Website Email
flautist + and errorlevel and flautist Website
fool_metal Email
freethought and HellKat
Garon and Garon with TRiFIXION Audio Website
geekkelly
Glover
Godlessheathen and Sastra
GodPole
goliath_cobalt aka GC_Away Website Email Audio
Graham Kendall Website
HeatDeath
Hedrin
Hej and Hej busy Email
HellRaisin
Hominid
ibeb + Website
icewall Email
Ignotus Website Email
Ingenieur
I-Heretic
IvyGirl, IvyGirl2, and Caleb Email
J3 on Mars and J3 #atheism testimonial!
_jaded
jamaisvu
'variations on a theme of duality' (aka Janza) and Young Janza Website Email
Jarus + Email
Jasmine- Website Audio
jbc
Jebediah^
jediknightress and jediknightress dune shadow
Jenny`
jewcano
JoeDalton and JoeDalton Website Email
Journeyman (aka Coda4Hire, InvisUnicorn)
justpooh
Kabalist Website Email
Kahlua
Kalessin
Kalista Website
Karousel
karstensrage
Kelani Website
Kerouac_
Kimberlicious
kiNg_bEe
kittaz (with hubby) Website
KLeF
Klil Email
Komprenas Email
KonKan and with Teller
Krishna_
Kudayta
kultur and with Teller
kumquat
Lady^Whim + Website Email
LaserTrk
Lemon_Aid
lewis Website Email Audio
Liberator Website Email
lifesucksstill
LivePassion Website Email
luxdesigns (aka jesus|raped|me)
LunarEclipse
Lord Pluton Website
Lyme Website
MadameCurie
Maldoror and Maldoror and Tatiana and Hooligan Maldoror ICQ #99197868
Maleri Website
_Marius_
MassHysteria Email
MatSon (with wife) +
MerryAnne +
methane Email Website
Metzger Email
Michael_Collins +
mikola Website
militant
Mistwalker
moj/soysuperbien
Mommy2Destiny
Moroon
Moses
Mushukyou Website
Natural409 Website
NedFlanders +
Nether (aka Jewelz) and daughter
new'thinner'you
Nefilim
Nightengale Email
NiteOwl
Nurgle
Nurse_ Website
Objekt Email
Obl1vion and on beach Email
Omniatheist
oneko
Opiewan Email
Ovid
PANDAEMONIUM Email
Periphery
phexie Email
Phylitsa and with James Website Email
Piett Website
pneama Website Audio
PoisonPen and PoisonPen Abstract Website Email
port79 Website Email
Prompt Email
Purrrisa
qubex and with small friend
ragle Website Email
RainbowDemon
Reason Website RedEars
Red_Velvet and Red/Lusion/Sivet Website
RedWolf Website Email
Resonte Website Email
Riley
riotboy
Rose-Vixen (second from left)
Rungler Website Email
RuthlessVagabond Email
Ryan297 Website Email
Ryft + Website Email
Ryuuka_Kokoro
SaffyPirate
samn Website Email Audio
Sarlax (a.k.a. Atheist) Email ICQ #7453750
Scary_Guy ICQ #26769477
Scienide +
Sent
Sephora16 Website Email
shebrew
sheercat Email
ShinyEyedMermaid
SilentDave Website Email
simcityman
SirMuss
SisterJessica
Sivet
sixter
SkankinMonkey Email
Skeptique
Skyclad
Sloth Email
snex and Sastra at TAM5
Socker
Sofie (aka Vero_vero)
sol_makou
SoulHunter +
SpecialK
Splork
StandardTech
STuPiDGiRL Website Email
supernoodle Website Email
surly surly2
svenmonk and doing turkey dance
sweet-n-sassie
sxem
swoolley
Syllogism
syntax_recorded_syntax +
TalkyToaster
Talo
TchnoMage Website
teagrey
Teeki Email
Templar Website Email
TerianTate
TigerGal
Timurlane
titania
Tiye Email
The_Gadfly
The_Scythe
TheHermit
The_Oh_God_of_Hangovers
THX-1138
tokeboy
toxyc
TRiFIXION and TRi with Garon
tyedye Website
udel (aka MumiaAbuJamal) Website Riff
User1O1OO11O1O Website WebCam Email
Vector
VirginMary Website
virgio *
volo
WickedNun
WillieThePimp
Witchy Website
WomanChief
YerServ +
YonaUsti
Zarkov Email
Zygon

Christians are noted with a + after their names if they so request.
Virgio is noted with a * after his name.


The webmaster neither endorses nor condones the personal websites listed on this page.


Thanks to Lokesh Dhakar for his Lightbox image overlay script.


atheism@stargazing.com

10/14/2013